South Korea's President Park 'willing to resign'


2016/11/30

730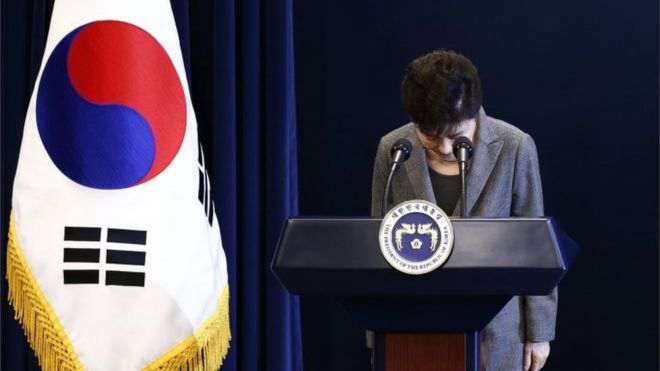 Ms Park has been facing growing calls to resign amid an investigation into whether she allowed a long-time friend to influence political decisions for personal gain.


  She said she would "leave to parliament everything about my future including shortening of my term".


  An impeachment motion had been scheduled in parliament on Friday.


  In a televised address, her third since reports of the scandal began, Ms Park said she would step down "once lawmakers come up with measures to transfer power in a way that minimises any power vacuum and chaos in governance".


  She has apologised twice before, and said she is "heartbroken", but has refused to stand down.


  Her friend, Choi Soon-sil, is in police detention, facing a string of charges.


  Ms Choi is accused of trying to extort huge sums of money from South Korean companies, and suspected of using her friendship with Ms Park to solicit business donations for a non-profit fund she controlled.


  Investigators believe Ms Park had a "considerable" role in the alleged corruption.


  Recent weeks have seen huge street protests, with hundreds of thousands of Koreans across the country demanding that she leave office.


  The BBC's Steve Evans in Seoul says her announcement is not quite a resignation, but an offer to resign later.


  But it does imply, he adds, that her days in office are now severely limited.