China captures women's volleyball gold, coach makes history

Janet


2016/08/22

2874

0挑错量:0
摘要:Women's volleyball team 3-1 reversal Serbia, after 12 years again.This is the biggest surprise in rio!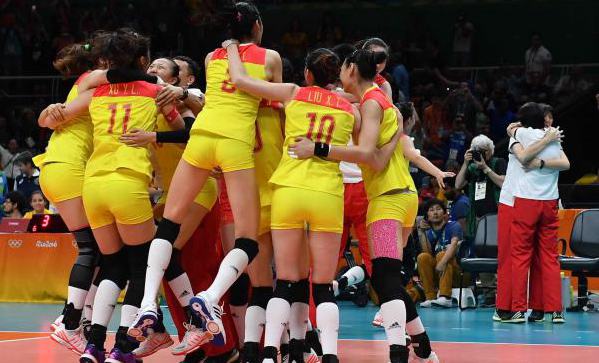 RIO DE JANEIRO (AP) — Head held high as she took the court moments after her Chinese team entered the arena, Jenny Lang Ping waved and smiled in several directions then paced around the floor observing China's championship opponent from Serbia.


  She proudly sang through the national anthem, then guided her team to a come-from-behind gold — and made her own history, too.


  Lang Ping became the first person to win volleyball gold as a coach and player, her China team rallying from one-set down to defeat the upstart Serbians 19-25, 25-17, 25-22, 25-23 on Saturday night in the Rio championship match at Maracanazinho arena.


  Early on in this tournament, Lang Ping — who captured an Olympic title with the 1984 Chinese national team in Los Angeles then later spent a four-year stint coaching the Americans — challenged her players to find ways to grow from their struggles with the world watching.


  All along, Lang Ping believed her emotional China players had the talent and determination to compete with the top programs in the world.


  And oh, did they show it. Once they found a groove.


  China took a 23-22 lead in the fourth set when Ting Zhu's kill sent Maja Ognjenovic to the floor with a hard ball to the face, and the match was over shortly thereafter. Lang Ping raised both arms in the air and Fangxu Yang sprinted over to embrace her. Many more hugs followed.


  The Chinese exhibited that same fire and fight a year ago while winning the World Cup in Japan, then got to Rio de Janeiro earlier this month and worked through some initial rough, inconsistent Olympic moments.


  When the Chinese squad lost its Olympic opener in five sets to the Netherlands back on Aug. 6, Lang Ping challenged her players: to learn, to support one another through the ups and downs, to grow from each defeat and triumph on the pressure-packed Olympic stage.


  They responded, and seemed to play better when the moments got bigger.


  Lang Ping's group of women found its top level of volleyball over the recent days in Rio de Janeiro and spoiled things for a volleyball-crazed country in the process. China took down the two-time defending Olympic champion Brazilian women on their home turf in Tuesday's quarterfinals to show this team had arrived — and, until Saturday night, that had been China's shining moment.