新西兰突发7.8级地震 震中距首都惠灵顿不到200公里!

Janet


2016/11/14

2923

0挑错量:0
摘要:Yesterday, a 7.8 magnitude earthquake hit the South Island of New Zealand, killing at least 2 people.And further tsunami disaster is coming!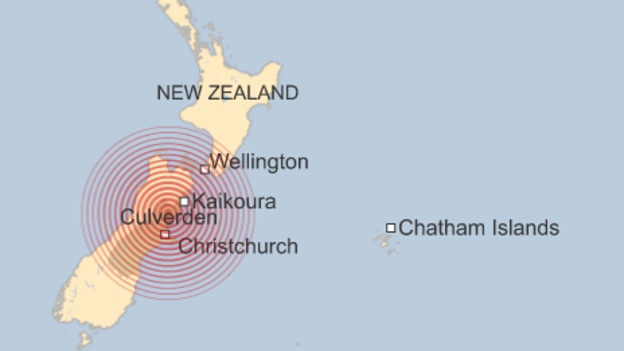 The quake hit just after midnight on Monday (11:02 GMT on Sunday), north-east of Christchurch.

  It was felt as far afield as the capital Wellington on the North Island, 120 miles (200km) away.

  A tsunami arrived about two hours later. Officials warned everyone along the eastern coast to head inland or for higher ground.

  Police said one person died in the town of Kaikoura on the eastern coast, which has been cut off by road and where electric power is out and phones are down.

  Another died in Mount Lyford, a ski resort nearby. It is not yet clear how they were killed.

  Tsunami waves

  A gauge at Kaikoura, 181 km (112 miles) north of Christchurch, measured a wave of 2.5m (8ft 2ins) in the early hours of the morning, according to Weatherwatch.co.nz.

  At one point, the ministry of civil defence suggested tsunami waves as tall as five metres could hit the eastern coast.

  But just after 08:00 local time (19:00 GMT), the warning was scaled back to a "marine and beach threat" with waves of just one metre along a small stretch of coast.

  Aftershocks continued throughout Monday morning. Many schools and offices stayed closed while engineers checked the buildings, and ferries and trains were cancelled.

  Speaking to reporters in the capital Wellington on Monday, Mr Key said there had been very little communication from the most affected areas, like Kaikoura and Culverden.

  "We don't have any indications at the moment to believe [the death toll] will rise, but we can't rule that out," Mr Key said, adding that a military helicopter was being dispatched to Kaikoura.

  Aerial images show tunnels along the coastal highway close to Kaikoura, a popular tourist destination, covered by a landslide. Other pictures of the devastated area show at least one collapsed home.