双语全文!王毅就当前中美关系接受专访(上)
来源:
外交部官网
作者: 时间:2020/08/07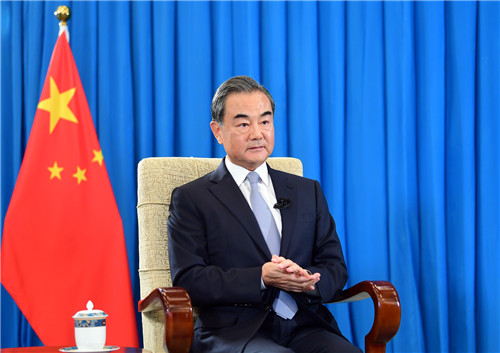 专访中英全文如下:
王毅:"对华接触政策失败论"是对历史进程的无知
新华社记者:美国务卿蓬佩奥近日在加利福尼亚州尼克松总统图书馆发表讲话,声称自尼克松总统以来美历届政府的对华接触政策没有取得美方预期目标,已经失败。美国内很多人质疑、批判蓬佩奥讲话内容,认为没有提出清晰可行的前进道路,而更多是"意识形态咆哮"。你对此有何评论?

Xinhua: U.S. Secretary of State Mike Pompeo asserted in his speech at the Richard Nixon Presidential Library that the policy of engagement with China pursued by successive U.S. administrations since President Nixon has not produced its goal and has failed. Many people in the United States question his assertion, saying it was more of an "ideological rant" without any clear or feasible pathway forward. What is your comment?
王毅:所谓"美国对华接触政策失败"的论调重拾冷战思维,完全否定了中美交往几十年来取得的成果,不仅是对历史进程的无知,也是对中美两国人民的不尊重。这种散布"政治病毒"的做法理所当然会受到美国国内以及国际社会的质疑和批评。
Wang Yi: The assertion that U.S. policy of engagement with China has failed is just a rehash of the Cold War mentality. It turns a blind eye to all that has been achieved in China-U.S. relations over the past decades, shows ignorance of the historical process and lack of respect for the Chinese and American peoples. This is a political virus which is understandably questioned and rebuked by people in the United States and the international community.
40多年前,中美两国领导人之所以能够实现跨越太平洋的握手,最根本的一条就是双方都坚持了相互尊重、求同存异的原则,搁置了彼此意识形态的差异。1972年尼克松总统首次访华时,周恩来总理强调,中美双方要弄清楚彼此之间的分歧,努力寻找共同点,使我们两国的关系有一个新的开始。尼克松总统也明确表示,中美存在巨大分歧,但促使两国走到一起的,是双方拥有超过这些分歧的共同利益。两国发表的上海公报载明双方愿意相互尊重、求同存异的共识。

Over four decades ago, leaders of China and the United States made the handshake across the vast Pacific Ocean. What made this possible was that both countries adhered to the principle of mutual respect and seeking common ground while putting aside ideological differences.
During President Nixon's visit to China in 1972, Chinese Premier Zhou Enlai said that China and the U.S. needed to be clear about our differences and find common ground, so as to reach a new starting point in bilateral ties. President Nixon responded that our two countries have great differences, and what brings us together is that we have common interests which transcend those differences. The Shanghai Communique issued by the two countries encapsulated their consensus to respect each other and seek common ground while setting aside differences.
之后的历史告诉世人,双方共同做出的这一重大抉择是完全正确的。建交40多年来,经过双方几代人的共同努力,中美关系成为世界上相互交融最深、合作领域最广、共同利益最大的双边关系之一。中美两国经济总量超过世界三分之一,对世界经济增长贡献率超过50%。双边贸易额较建交之初增长了250多倍,达世界五分之一,双向投资从几乎为零攀升到近2400亿美元,每年人员往来达500万人次。两国在涉及世界和平与发展的几乎所有全球性问题上都肩负着重要责任。这些都是不容否认,也无法否认的事实。

What has happened since then demonstrates that this monumental choice made by the two sides is the right one. Over the past 40 years and more since the two countries entered into diplomatic ties, several generations of Chinese and Americans have worked together to advance China-U.S. relations. As a result, bilateral ties have become one of the most deeply interwoven relationships in the world with broadest cooperation areas and most extensive common interests.
China and the U.S. now account for over one-third of global economic output and over 50 percent of global growth. Bilateral trade volume has increased by over 250 times since the early days of diplomatic ties and takes up one-fifth of the global total. Two-way investment has jumped from almost zero to nearly 240 billion U.S. dollars, and annual two-way visits by the two peoples have reached five million. The two countries shoulder important responsibilities for almost all global issues concerning world peace and development. No one can deny these facts.
40多年后的今天,中美在社会制度等很多方面仍然完全不同,但这种不同过去、今天和将来都不会也不应影响两国继续和平共处、合作共赢。双方没有必要也不可能去改变对方,而是应尊重对方人民做出的自主选择。中国几十年来取得的巨大发展成就已经证明,中国特色社会主义道路不仅适合中国,始终得到中国人民最广泛、最坚定的支持,同时也造福给这个世界,惠及包括美国人民在内的各国人民。中国一定会继续按照人民的愿望,不断发展进步并为人类做出新的更大贡献。任何人试图阻挡或者改变这一进程,不仅是自不量力,而且是自寻烦恼。

Forty years on, while China and the U.S. are quite different in social systems and many other aspects, such differences have not affected the peaceful coexistence and cooperation between the two countries, and they should not affect their bilateral ties in the future. It is neither necessary nor possible for the two sides to change each other. Instead, we should respect the choice independently made by the people of the other side.
China's major achievements in the past decades show that the path of socialism with Chinese characteristics fits China and enjoys the most extensive and firm support of the Chinese people. It has also benefited the world and people of other countries, including the American people.
China will continue to pursue development and progress to meet the desire of its people and make new, even greater contributions to mankind. Anyone who attempts to derail this process can only end in failure.

王毅:中美应以合作而不是脱钩来推动两国关系发展

新华社记者:一段时间来,美方一些人不断声称,美中关系长期不公平、不对等,美方是中美交往中"吃亏"一方,美国帮助重建了中国。你认为这是否符合事实?
Xinhua: Some people in the United States claim that the China-U.S. relationship has long been unfair and not reciprocal, and that the U.S. has rebuilt China but it has been taken advantage of. Do you think this is the case?
王毅:中美合作从来都不是一方给另一方的恩赐,也不是一方对另一方的剥夺,中美双方从合作中都获得了巨大收益,不存在谁吃亏、谁占谁便宜的问题。

Wang Yi: China-U.S. cooperation has never been a case of one party giving favor to the other, or one party taking advantage of the other. Both countries have benefited much from this cooperation, and no one is being taken advantage of or being ripped off.
长期以来,中美两国通过优势互补、互利合作,形成相互融合的利益共同体。中国的快速发展既得益于同世界各国包括美国的开放合作,同样,中国的不断成长也反过来为美国等提供了持续增长的动力和巨大的市场空间。据统计,中美经贸关系支撑美国260万个就业岗位,两国贸易平均每年为每个美国家庭节省850美元的生活成本。美国企业在华投资兴业累计已超过7万家,年销售额达7000亿美元,其中97%都是盈利的。即使在中美贸易摩擦和新冠肺炎疫情影响下,绝大多数美国企业仍希望继续留在中国,并且逆势扩大对华投资。如果真像某些人所说,中美之间的合作是不公平、不对等的,这种状况怎能持续几十年之久?中美关系怎能发展到今天的这种深度和广度?
Mutually beneficial cooperation over the years have turned China and the U.S. into a community with shared interests. China has achieved rapid growth in part thanks to its opening-up to and cooperation with the rest of the world, including the U.S., China's continued growth has also created sustained demand and an enormous market for the U.S. and other countries.
Statistics show that China-U.S. business ties support 2.6 million American jobs. Trade with China helps each American family save 850 U.S. dollars every year. Over 70,000 American businesses have made investments in China with a total sales volume of 700 billion U.S. dollars. Among them, 97 percent are making a profit. Even with the trade friction and COVID-19, the vast majority of American companies in China still want to stay and are doubling down on investment in China.
If China-U.S. cooperation were unfair and not reciprocal, how could it have continued for several decades? How could China-U.S. ties have come such a long way?

当然,全球化与自由贸易在创造发展红利的同时,也会给各自的经济结构和利益分配带来矛盾和问题。这就需要通过自身改革来加以调整,而不是自己生病,却让别人吃药。一味把责任归咎于别人,甚至指望通过所谓"脱钩"来解决问题,那只会是缘木求鱼、南辕北辙,最终还会进一步伤害美国的企业和人民。
Globalization and free trade have delivered development dividends, but they have also created tensions for countries and affected their economic structures and distribution of interests. This should be dealt with through internal reform. Acting like a sick person who forces others to take medicine for his own illness or even resorting to decoupling will not work. It is the American companies and people that will get badly hurt.
全球化发展到今天,各国利益相互交织。中方一向主张,中美两国发展不是非此即彼的关系,没有必要相互排斥,完全可以相互借力、相互成就。当前,世界经济正经受疫情严重冲击,中美作为世界上最大的两个经济体,理应坚持平等互惠,以合作而不是脱钩来推动两国关系的发展,并为这个世界承担起应尽的责任。

In the globalized world today, the interests of countries are closely intertwined. The development of China and of the U.S. is not a zero-sum game, and we should not reject each other. What we should do is to draw on each other's strengths to achieve common development.
As COVID-19 takes its toll on the global economy, China and the U.S., the world's two largest economies, should work for mutual benefits on an equal footing, stop attempts at decoupling and advance the relationship through cooperation, and live up to their responsibilities for the world.
王毅:中方坚决反对人为制造所谓"新冷战"


新华社记者:近段时间,美方采取了一系列破坏中美人文交流的消极举动,包括骚扰中国留学人员、干扰正常学术交流、限制打压中国媒体等。很多人认为,麦卡锡主义在美幽灵重现。你认为中美真的会陷入"新冷战"吗?

Xinhua: The United States has recently made a number of moves that undermine people-to-people and cultural exchanges with China. It has harassed Chinese students in the U.S., obstructed normal academic exchange, and imposed restrictions on Chinese media operating in the United States. Many people are concerned that this is a resurgence of McCarthyism. Do you think the two countries will fall into a new Cold War?
王毅:当前,中美关系正面临建交以来最严峻的局面,各领域交流合作均受到严重干扰,根本原因是美国国内一部分政治势力出于对中国的偏见和仇视,利用手中掌握的权力,编造各种谎言恶意抹黑中国,制造各种借口阻挠中美之间的正常往来。他们这么做,就是想复活麦卡锡主义的幽灵,破坏中美之间的联系,煽动两国民意的对立,损害两国互信的根基,从而把中美再次拖进冲突与对抗,把世界重新推入动荡与分裂。

Wang Yi: China-U.S. relations are facing the gravest challenge since the establishment of diplomatic ties, and their exchanges and cooperation in many areas are being seriously disrupted. The root cause is that some American politicians who are biased against and hostile to China are using their power to smear China with fabrications and impede normal ties with China under various pretexts. What they want is to revive McCarthyism in an attempt to undermine U.S. relations with China, stoke hostility between the two peoples, and erode trust between the two countries. Ultimately, they want to drag China and the U.S. into renewed conflict and confrontation and plunge the world into chaos and division again.
中方不会让这样的阴谋得逞。我们坚决反对人为制造所谓"新冷战",因为这完全违背中美两国人民的根本利益,完全背离世界发展进步的潮流。当年冷战给世界人民带来的创伤和痛苦绝不应重演。共谋和平,共促发展,才是世界各国的普遍愿望。如果谁要在21世纪的今天挑起所谓"新冷战",那他就站到了历史前进的对立面,就是国际合作的最大破坏者,就必将被钉在历史的耻辱柱上。

China will not allow these people to get their way. We reject any attempt to create a so-called "new Cold War," because it contravenes the fundamental interests of the Chinese and American peoples and the global trend toward development and progress. The Cold War, which inflicted great sufferings to the world, should not be allowed to repeat itself. Peace and development is what all countries aspire to. Anyone who tries to start a new Cold War in the 21st century will be on the wrong side of history and will only be remembered as the one who has upended international cooperation.
今天的中国并不是当年的苏联,我们更无意去做第二个美国。中国从不输出意识形态,也从不干涉别国内政。作为世界上最大的发展中国家和安理会常任理事国,中国将继续坚定不移地走和平发展道路,坚定不移地奉行互利共赢的开放战略,持之以恒做世界和平的推动者、全球发展的贡献者、国际秩序的维护者。

Today's China is not the former Soviet Union. We have no intention of becoming another United States. China does not export ideology, and never interferes in other countries' internal affairs. As the world's largest developing country and a permanent member of the UN Security Council, China will stay committed to peaceful development and to pursuing an opening-up strategy of mutual benefit. China will continue to promote global peace and development and uphold the international order.
相关阅读: